IDEV Onsite Charger
IDEV Onsite is a robust and easily mountable temporary EV charging point for the challenging construction and industrial environment. Robust design with easy on site mounting with clamp plate. With charging rates up to 32A, single or three phase (7kw or 21kw), vehicles can be conveniently and quickly charged whilst onsite, whether it's a quick top-up for visiting personnel or full vehicle charge. Compatible with all European vehicles, the Type 2 connection is the most popular, covering BMW, Tesla, VW, Renault, Mercedes, Porsche, Hyundai and many others.
Specifications
> Input: 32A 400V 5 or 3 Pin IP67 Inlet or Hardwire with adaptable mounting plate No protection – requires connecting to a 32A RCBO outlet
> Output: Type 2 Charging socket, 3 phase capable, locking pin for cable security EU Standard controller auto detects cable rating and communicates with the vehicle.
> On/Off: Key switch to enable charging Allows on site control of availability without access to the site power panel
> Dimensions: L245mm X H160mm X D165mm
> Mounting: 4 M5 studs and clamp plate Clamp plate used for mounting to IDE SD range and on-site fencing /boarding etc.
> Adapters: 32A 1 phase socket, 32A 3 phase socket, blanking plate for rear cable entry, gland plate for bottom entry hard wire Optional plates for different cable mounting solutions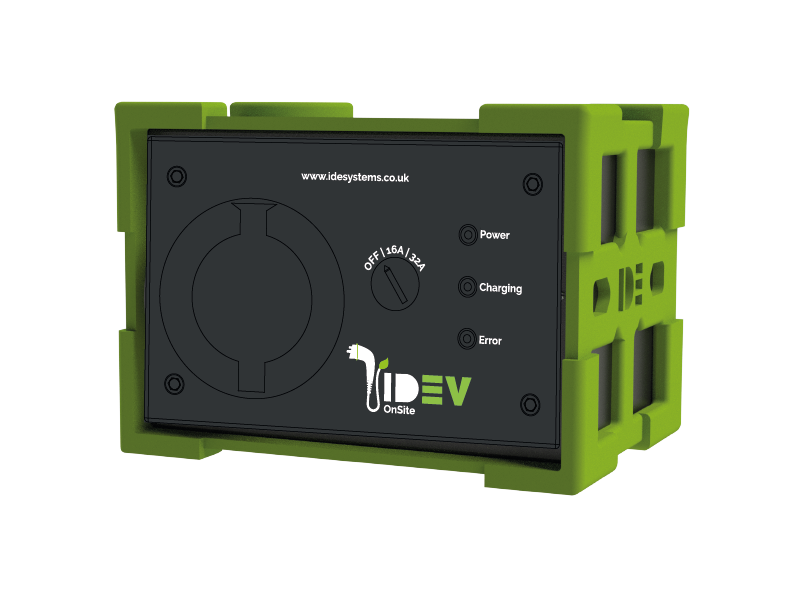 IDEV Onsite + Charger
The IDEV Onsite + AC charging unit has been designed to charge electric vehicles from a temporary power source. Housed in a steel enclosure suitable for outdoors, this EV charger has 2 x type 2 charge sockets, for a selection of models to suit all input requirements. Portable charging unit for ease of use. Up to 3 charge units, 6 charging points can be connected in line and powered from a single 63A 3 phase supply, or 6 modules with 12 charging points in "low power" mode.
Specifications
> Input: Optional configurations for 32A 3 Phase, 63A Single Phase, 63A 3 Phase and feedthrough 63A 3 Phase.
> Output: 2 x Type 2 Charging socket, 3 phase capable, locking pin for cable security. PEN and DC 6mA protection.
> ON/OFF Key switch to enable charging, three settings 'OFF', 16A or 32A.
> Phase Selector: Phase selector switch to balance phases during set up. Three phase only.
> Dimensions: H600 x W350 x D180 (mm)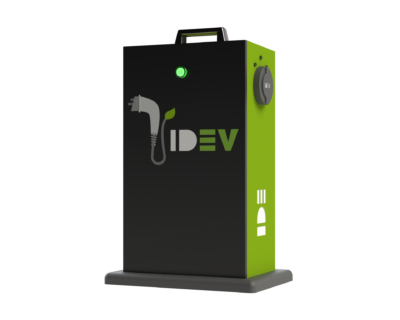 Purchase or Rent our EV Chargers
erica
Erica is an on site power management tool providing you with usage data so power can be managed effectively. With easily analysed power data, you will have the ability to optimise your power solution.