The importance of the Generator Connection Point
Power failure can occur when you least expect it. Within moments it can shut down infrastructure resulting in loss of communication, information and productivity. More facilities are recognising the value of bringing temporary portable generators online safely and quickly in the event of power failure.
The Generator Connection Point is a cost effective solution that can be fitted inside or outside of a building allowing a safe and quick connection of a generator to your facility's electrical system when required. Connections can be made within a matter of minutes, ensuring minimal downtime and disruption.
The GCP400-630Se-1
ide offer a 400A or 630A three phase, neutral and earth  distribution unit designed to allow a temporary generator connection. Equipment housed within a wall mounted stainless steel enclosure. Powerlock (Drain) connections to 30x10mm copper bars with 300mm spreading distance for top entry outgoing cables.
Enclosure
Orange (RAL2010) full gloss coated stainless steel construction (1.4003 grade). Other colour options are available by request. Powerlocks mounted on a 45 degree angle aluminum plate. 3mm aluminium top entry gland plate are provided for customer connections. Lower door is lockable once temporary cables have been connected and are on load to prevent from tamper. Fitted with crash bars either side to prevent from damage. Assembled to IP54.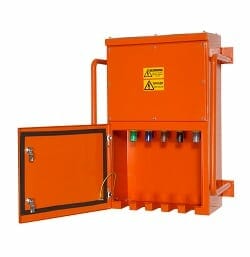 Our 4 Step Service Plan
As part of our Generator Connection Point package we offer:
Project Engineer will evaluate your site
Design a solution to suit the requirements of your facility (Single-core powerlock cable can be provided if required)
The solution is manufactured, dispatched and installed by our team of qualified engineers
Follow up inspection conducted upon request.
To find out more about our Generator Connection Points click here.
Alternatively send your enquiry below and an engineer will contact you to discuss in further detail
Oops! We could not locate your form.