Background 
> Construction started in 2019 and consisted of a new bypass to carry the A487 around Caernarfon and the nearby villages of Llanwnda, Dinas and Bontnewydd.
> Previous route was prone to high traffic congestion during peak times, this new 9.8km route will remove traffic congestion and improve driving experience.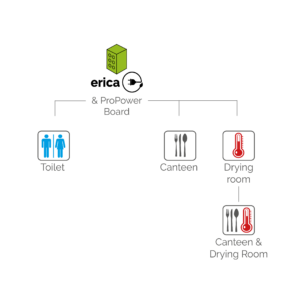 > The construction company carrying out the work would require an alternative to the diesel fuel generator as they would be in use 24/7 and would be a major contribution to carbon emissions. 
Solution 
> Working with our suppliers, the solution consisted of a revolutionary solar/hybrid off grid temporary power solution.
> Erica, was the crucial jigsaw piece to this solution as the power monitoring tool would give live data of power usage during the construction phase.
> The construction company were able to have live factual data sent via the cloud to their desktop, which showed where power is wasted and had the ability to turn off certain areas of the site.
> Erica enabled them to turn off power to drying rooms and canteens when not in use over a certain period of time, all from their desktop.
> Providing the company with the control they required over the power for their site which contributed into implementing different power sources which led to reducing carbon emissions.