Renting with IDE is easy.
Our strategically placed Rental Centres in the South East, North East, Midlands and Scotland hold large inventories of stock, ensuring that wherever you are, you get access to the right equipment when you need it.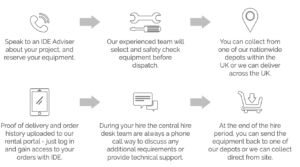 > As a business we can advise on important decisions – not only about how you source equipment, but on managing your budgets more efficiently as well.
> We can help you find the right balance between renting and purchasing equipment, taking into account any unique concerns you have about capital and operational expenditure.
> We can help you plan ahead and balance your 'Asset to X-Hire' needs to create the right mix for your business.
> Providing a full range of power distribution equipment, for a wide variety of applications, delivering to you anywhere in the UK and Europe.
> We have the logistical capability to support large planned contracts or emergencies, both same-day and next-day delivery.
> Armed with industry knowledge, we have a dedicated Central Hire Desk team who are available for all rental enquiries and can help manage your project efficiently.