Supporting the GCC
Event Power Distribution Solutions
Most large outdoor events across the GCC are powered by strategically placed generators across site. Typically, this approach requires a large amount of distribution boards to effectively distribute temporary power from the generators to final applications such as entertainment stages, PA systems, lighting, audio visual and refreshment areas.
For large scale events we offer two types of applications:
High Power Distribution Boards (630A-3200A)
Free standing distribution boards, manufactured from black powder coated Zintec steel, housed in a galvanised steel crash frame, complete with forklift pockets. All distribution boards can be incorporated with a range of incoming and outgoing options, which include hardwire and socket connections, as well as MCCBs and earth leakage relays to suit the requirements of your project. All distribution boards are fitted with highly reliable ABB switchgear as standard, and we can also incorporate the latest monitoring solutions at an additional cost. In addition to this, we also supply a range of Automatic Mains Failure (AMF) panels. Our high power distribution boards have the versatility to also support the temporary power network for projects in the construction and oil and gas industry.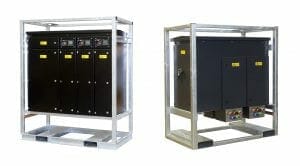 Event Distribution Boards (16A-400A)
IDE offer a range of event distribution boards designed to connect from the on-site generators/high power distribution boards to the final applications. Our event distros are manufactured from High Density Polyethylene (HDPE) – perfect for the extreme temperatures of the GCC due to its high melting temperature. All event power distribution boards can be fitted with a range of connections, including powerlocks and Mennekes sockets and optional MCB, RCBO and adjustable earth leakage relay protection.  Some of our heavy duty 400A powerlock boards are housed in a stainless steel crash frame for additional protection. All power distros are designed with either carry handles or forklifting pockets to allow for relocation across site.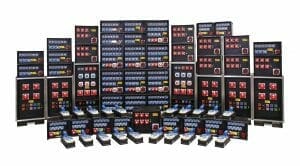 Event Power Accessories 
IDE hold a large stock of event power accessories at our manufacturing centre in the UK. We can support you with cable ramps, power lock connectors, lugit connectors, CEE form plugs/couplers and a range of cabling solutions. We are official distributors of Mennekes and Phase 3 connectors – internationally recognised components that ensure maximum performance and reliability.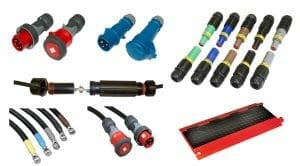 Design & Build
Have a unique requirement?  Our team of  fully accredited and highly versatile engineers have many years' experience designing bespoke products. And with our flexible manufacturing capability and supply chain partnerships, we can respond to any requirement for a new solution quickly and efficiently, whether it is a one off, or an ongoing production requirement.
Our design teams work to get a complete understanding of your needs, and provide detailed project specifications. We keep you informed of progress, and can produce 3D CAD and electrical drawing packages for validation by you, or your electrical experts.
Deliveries and Documentation 
Working closely with our trusted delivery partners, we are able to meet all commercial requirements to deliver our temporary power distribution solutions to the GCC and beyond. We are able to offer land, sea and airfreight options with minimal lead times.
Why choose IDE as a trusted partner in temporary power? 
Our clients in the GCC trust us to support them with their projects year on year, not only because of our high quality products – but because we understand what it takes to deliver temporary power distribution in the great British engineering tradition. We offer innovation, skill, quality and reliability, and our all important  "can-do spirit" means that no project is too large for us to satisfy.
All equipment is tested by our team of qualified electricians and is designed to meet the electrical standards of the GCC.
We have a dedicated team of representatives who are out in the GCC every month to offer friendly and thorough advice on how IDE can support you with planning your temporary power network.
For more information on how we can support your project in the GCC, please send your enquiry to enquiries@idesystems.co.uk or call our dedicated GCC hotline on +44(0)7393 756951